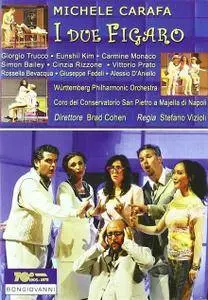 Brad Cohen, Württemberg Philharmonic Orchestra - Carafa: I due Figaro (2009)
NTSC 16:9 (720x480) VBR | Italiano (LinearPCM, 2 ch) | 7.64 Gb (DVD9) | 160 min
Classical | Bongiovanni | Sub: Italiano, English
Michele Carafa was a friend of Rossini's and worked with the composer on several occasions. I Due Figaro is a sequel to The Marriage of Figaro. Fifteen years on, the now adult Cherubino returns to the palace in disguise as Figaro II to be near the Count's daughter. And Cherubino/Figaro II will triumph over adversity and send the original Figaro packing.