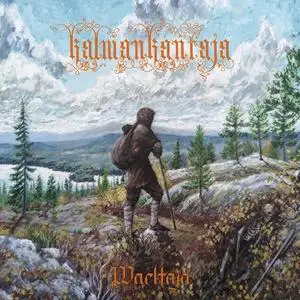 Kalmankantaja - Waeltaja (2021)
Finland | MP3 CBR 320 Kbps | 94 MB
Atmospheric Black Metal | Label : Korpituli Productions
Waeltaja is an epic glorification of the harsh nature of the north and a tribute to the myths and legends that are still to this day told in northern Finland. It is a tale of a wanderer embarking on a quest to find the northernmost shores of Pohjola - the worlds end, to learn the wisdom of the respected seers of the North, to bathe in the ice-cold sea - in the realm of Ahti and eventually return home from his travels like a pilgrim of pagan ways. On his way back our protagonist is caught in a blizzard thus making his journey home a trial of strenght against the forces of nature as he gets lost in the cold, battling the elements and his own spirits during his long road back to the forests of ancient Kainuu. This poetic tale was written and performed by visiting talent S.Korpituli (Iku-Turso, Korpituli, Khanus, Wrathage, etc.) in native Finnish. The album was composed by Grim666 in a search for a more simplistic sound, using harmonies instead of lead guitar, making more space for the ambience of the keyboards in order to deliver an ice-cold experience of Finnish Black Metal.