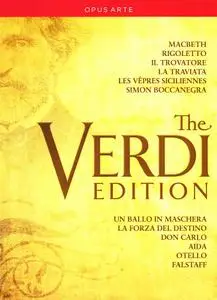 Edward Downes, The Orchestra of the Royal Opera House - The Verdi Edition: Rigoletto (2013)
NTSC 16:9 (720x480) | Italiano (Dolby AC3, 2 ch ) | (Dolby AC3, 6 ch) | 135 min | 7,04 Gb (DVD9)
Classical | Label: Opus Arte | Sub: English | Recorded: 2001
If there are lingering doubts about the Royal Opera House's artistic renaissance after its mid-1990s doldrum years, David McVicar's gritty and sexy production of Rigoletto should blow them all away. One of the principal reasons is McVicar's decision to emphasize the tyrannical nature of the Duke (beautifully sung by Marcelo Alvarez), and the appalling social injustice that springs from a corrupt leader: his court is a place of physical and sexual abuse (graphically, but by no means gratuitously, depicted). This violence throws the dual nature of Paolo Gavanelli's energetic, insectlike Rigoletto into relief, making his sycophancy seem all the worse and his vengefulness all the more sympathetic.