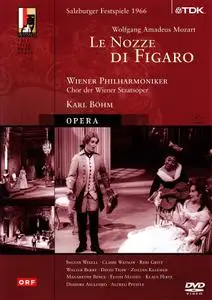 Karl Böhm, Wiener Philharmoniker - Mozart: Le nozze di Figaro (2003)
PAL 4:3 (720x576) | Italiano (LinearPCM, 2 ch) | 180 min | 6,50+5,92 Gb (2xDVD9)
Classical | Label: TDK | Sub: English, Deutsch, Francais, Espanol, Italiano | Recorded: 1966
This production created for the opening of the Salzburg Festival in 1966, which remained on the programme for five years, was Karl Böhm's last Salzburg Figaro. After multiple tries to stage Figaro at the Salzburg Festival in the 1950's and 60's, the successful team Karl Böhm/Günther Rennert mounted this production with new décor, costumes by Rudolf Heinrich and with a practically new, young cast of singers. It was not only the celebrated highlight of the festival summer 1966 but also became a "standard for Mozart" " that at least was the headline the German critic and future director of the Stuttgart Opera, Wolfram Schwinger, gave his report in the "Stuttgarter Zeitung" of 27 July 1966.