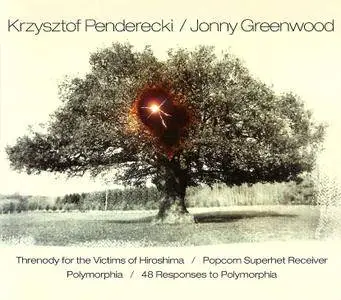 Krzysztof Penderecki: Threnody for the Victims of Hiroshima; Polymorphia
Jonny Greenwood: Popcorn Superhet Receiver; 48 Responses To Polymorphia
AUKSO Orchestra; Krzysztof Penderecki, conductor; Marek Moś, conductor
EAC | FLAC | Image (Cue&Log) ~ 228 Mb | Scans included | Time: 00:53:05
Classical, Contemporary, Avant-Garde | Label: Nonesuch | # 7559-79625-1
Inspired early on by the experimental pieces of Krzysztof Penderecki, Radiohead's guitarist and composer Jonny Greenwood has pursued the idea of shaping orchestral sounds in enexpected ways to produce startling and innovative works. Just as Penderecki wrote for conventional instruments and turned dense bands of microtonal dissonances and extended techniques into the agonized cries of Threnody for the Victims of Hiroshima and the pulsating roars and shrieks of Polymorphia, Greenwood achieves comparable effects in his multilayered and highly varied orchestral music. The massed harmonies and swooping glissandi of Popcorn Superhet Receiver owe a considerable debt to Threnody, which Greenwood would gladly admit; because the title 48 Responses to Polymorphia openly acknowledges the connection to that work, it is easy to identify Greenwood's raw materials and how he brilliantly reworks them to his purposes. This 2012 release from Nonesuch consists of recordings made with the Aukso Orchestra in Kraków, Poland, with Penderecki conducting his own works and Marek Mos conducting Greenwood's compositions.