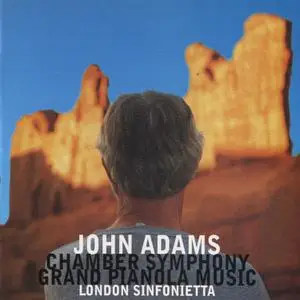 John Adams, London Sinfonietta - John Adams: Chamber Symphony / Grand Pianola Music (1994)
WEB | FLAC (tracks) - 258 MB | 52:30
Genre: Classical | Label: Nonesuch
Not only is the piece amazing! (of course) but the performance is incredible! The London Sinfonietta plays with remarkable virtuosity and STYLE! As a musician having listened and seen the score, I know this piece is extremely difficult, and they play with wonderful competence and character. Aside from the fantastic playing, the piece is a real ear opener for fans of Adams. The majority of his music (or, that which is being recorded) are large orchestral works. Large orchestras, lots of soloists, etc. Wonderful stuff, if you haven't heard Harmonium yet, go listen. .