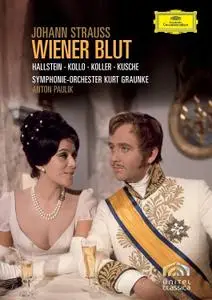 Anton Paulik, Symphonie-Orchester Kurt Graunke - Johann Strauss: Wiener blut (2004/1971)
NTSC 4:3 (720x480) | Deutsch (LinearPCM, 2 ch) | (DTS, 6 ch) | 7.34 Gb (DVD9) | 94 min
Classical | Deutsche Grammophon | Sub.: Deutsch, English
In one of Johann Strauss' waltzes, a dream operetta couple of the 70s returns: Ingeborg Hallstein and Rene Kollo. Wiener Blut, filmed in 1971, is a thoroughly Viennese production whose strengths guarantee unadulterated operetta enjoyment: Beautiful voices, natural acting, more committed to the film than the opera stage and a cast of operetta stars even in supporting roles: Among others, Dagmar Koller, Ferry Gruber and the unforgettable Viennese original Fritz Muliar can be seen and heard.