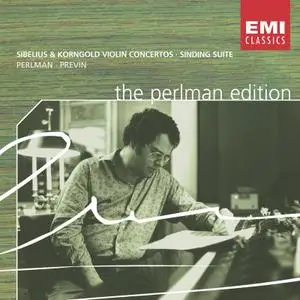 Itzhak Perlman, Pittsburgh Symphony Orchestra, André Previn - Sibelius & Korngold: Violin Concertos, Sinding Suite (2003)
WEB | FLAC (tracks) - 351 MB | 01:09:03
Genre: Classical | Label: EMI Classics
On this disc, the playing's the thing and it is fabulous. Originally made in 1979 and 1980, these recordings capture Perlman at his incomparable peak. The effortless perfection of his technique leaves you gasping in disbelief; even the infamously unplayable passages in the Sibelius Finale are tossed off with easy nonchalance, and he avoids the false accents often heard in the treacherous opening theme. And Perlman's toneis warm, mellow, pure, and constantly expressive; its golden glow is like burnished copper on the low strings, like radiant sunshine up high, and he can vary it instantaneously with bow and vibrato to fit the music.