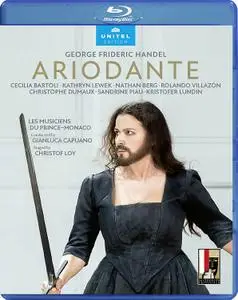 Gianluca Capuano, Les Musiciens du Prince-Monaco - Handel: Ariodante (2021/2017) [BDRip]
BluRay-rip | AVC | MKV 1280x720 / 2762 kbps / 29,970 fps | 216 min | 4,87 Gb
Audio: Italiano / AC3 / 6ch / 48.0 KHz / 448 Kbps
Classical | Unitel Edition | Sub: Italian, English, German, French, Korean, Japanese
At Salzburg Festival, Cecilia Bartoli shines as Ariodante with her dazzling coloratura in a highly acclaimed new production by the German director Christoph Loy, who is known for his clever psychological stagings. Loy turns Handel's splendid baroque opera into an exciting and differentiated reflection on gender roles. A high-class ensemble, first and foremost a brilliant Cecilia Bartoli in the trouser role of the knight Ariodante who effortlessly switches between cheerful and lamenting virtuoso singing makes the production a true triumph. At her side perform audience favourite Rolando Villazón as Lurcano and young American soprano Kathryn Lewek, praised by critics as a "true discovery" (Neue Zürcher Zeitung).