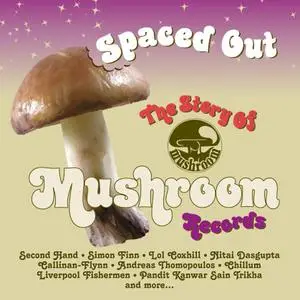 VA - Spaced Out: The Story Of Mushroom Records (2017)
WEB FLAC (tracks) - 834 MB | MP3 CBR 320 kbps - 352 MB
2:32:40 | Psychedelic Rock , Prog Rock , Folk , Hindustani , Avant-garde Jazz | Label: Grapefruit
MUSHROOM RECORDS was founded in London's Chalk Farm district in 1970 by producer Vic Keary, an experienced industry veteran who'd spent most of the 1960s working as Maximum Sound Productions.
Over the course of three years, Mushroom issued a dizzying variety of records, embracing a broad range of music styles from Prog Rock (Second Hand, Chillum) to Singer-Songwriters (Simon Finn, Andreas Thomopoulos), Traditional Folk (Callinan-Flynn, The Liverpool Fishermen), Indian music (Pandit Kanwar Sain Trikha, Nitai Dasgupta), avant garde jazz (Lol Coxhill) and world music (Les Flambeaux). And in Magic Carpet, Mushroom hosted a group who reflected most of the above genres on one album.