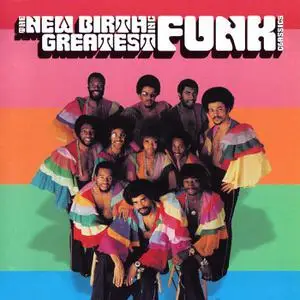 The New Birth Inc - Greatest Funk Classics (2001)
R&B, Soul/Funk | EAC Rip | WavPack (WV), Img+CUE+LOG+Scans (PNG) | 01:18:16 | 524,55 Mb
Label: RCA/BMG (USA) | Cat.# 07863 69363-2 | Released: 2001-03-20
The New Birth revue's (the Nite-Liters and Love Peace & Happiness) potential went practically unfulfilled in the grand scheme of music. Talented and equipped with soulful vocalists such as the Wilson brothers (Leslie and Melvin), Londee Loren, Alan Frey, and Anne Bogan (who not only participated on some New Birth recordings, but also with Leslie and Melvin Wilson as Love Peace & Happiness, who recorded two RCA albums), the world should have been theirs for the taking. This compilation lives up to its name and is primarily funky. Culled from recordings by New Birth, the Nite-Liters, and Love Peace & Happiness, these are 18 gutbucket funky soul numbers. Tracks of note: "Con-Funk-Shun," whose title was adopted by another funk band; a gritty remake (even grittier than Bobby Womack's) of "I Can Understand It"; "Theme From Buck and the Preacher"; "Granddaddy"; "I'm Back"; and "Lonely Room" from Love Peace & Happiness' Love Is Stronger album. The most obvious omits are the plums: "It's Been Such a Long Time," "Wildflower," "Dream Merchant," and "It's Impossible." Even so, Greatest Funk Classics is a straight-up winner.