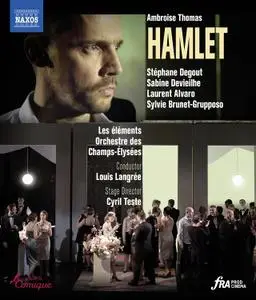 Louis Langrée, Orchestre des Champs-Élysées - Thomas: Hamlet (2019) [BDRip]
BluRay-rip | AVC | MKV 1280x720 / 2762 kbps / 29,97 fps | 170 min | 3,87 Gb
Audio: Français / AC3 / 6ch / 48.0 KHz / 480 Kbps
Classical | Naxos | Sub: French, English, German, Japanese, Korean, Chinese
With Shakespearian operas all the rage in Paris during the 19th century, Ambroise Thomas and his librettists Michel Carre and Jules Barbier adapted Hamlet to create a romantic spectacle in which the character of Ophelie shines with a haunting radiance. With its virtuosic arias, stunning ensembles and vivid orchestration with the colourful addition of the newly invented saxophone Thomas composed one of the most successful operas in the French repertoire. This is further enhanced by director Cyril Teste s multi-layered production, reinstating its powerful original ending, and including cinematic techniques to create a very palpable hit (bachtrack.com).