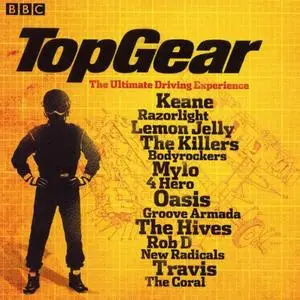 VA - Top Gear - The Ultimate Driving Experience [2CD Set] (2005)
XLD Rip | FLAC (Tracks) +CUE, LOG | 990 MB
Genre: Rock, Pop Rock, Alternative, Indie, Electronic | Label: Family Recordings | Catalog Number: 9835482
Harking back to the days of homemade mixtapes, BBC's television program Top Gear released its own version of a road-trip album in a two-disc, 38-song compilation they call The Ultimate Driving Experience. According to the label, Family Recordings, the first disc is a selection of "recent" hits (though if the Stone Roses song "Love Spreads" from their 1994 album, Second Coming, really qualifies as recent is debatable), while the second focuses more on atmosphere (aka electronica, techno, and house music). What this basically means is that there is a disc for day and then one for night, though, perhaps because of the incessant rain in Britain and the lack of sun in the winter months, there are some songs on the first that seem to better apply to low-light situations (DJ Shadow's "You Can't Go Home Again," UNKLE's "Panic Attack," and Snow Patrol's "Run," for example).