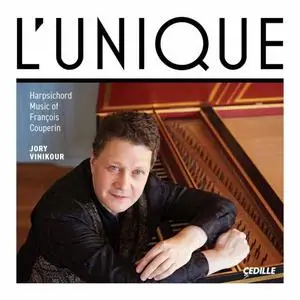 Jory Vinikour - L'unique (2020)
FLAC tracks | 01:18:16 | 475 Mb
Genre: Classical / Label: Cedille
Two-time Grammy Award-nominated harpsichordist Jory Vinikour plays historically groundbreaking works by François Couperin (1668–1733) on an album comprising three inventive Couperin suites — the composer called them "Ordres" — combining traditional French Baroque dance movements with witty and atmospheric character pieces — miniature tone poems for solo harpsichord. Highlights include the celebrated Les Baricades Mistérieuses from Ordre No. 6, which England's The Guardian calls "shimmering, kaleidoscopic and seductive, a sonic trompe l'oeil." The compelling Les Amusemens from Ordre No. 7 is irresistibly sweet and melancholic. Order No. 8 offers masterful examples of established forms, culminating with a dramatic Passacaille. Vinikour performs on a harpsichord created for him in 2012 by England's Tony Chinnery, modeled after an instrument by the French builder Pascal Taskin (1723–1793). Its rich sound is ideally suited to 18th-century French repertoire.