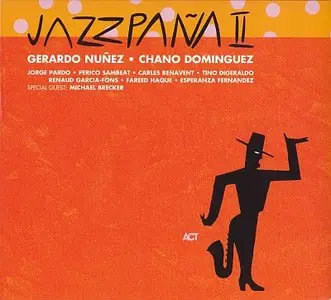 Gerardo Nunez & Chano Dominguez - Jazzpana II (2000)
EAC 1.0b3 | FLAC Image level 6 | Cue+Log+MD5 | Full Scans 300dpi | 333MB + 5% Recovery
MP3 CBR 320 Kbps | 143MB + 5% Recovery
Genre: Latin Jazz, Flamenco, Fusion
Jazzpana II assembles an equally stellar ensemble, with a heavier emphasis on the flamenco contingent. This is led by performer/composers Gerardo Nunez (flamenco guitar) and Chano Dominguez (Grotrian Steinweg piano), and filled out with Esperanza Fernandez (vocals on one track), Jorge Pardo (soprano sax), Carles Benavent (electric bass), Renauld Garcia-Fons (five-string acoustic upright bass), Tino Di Geraldo (drums) and Cepillo (cajon). The Jazz counterpart is headlined by Michael Brecker (tenor sax) and Fareed Haque (electric guitar) and rounded out with Perico Sambeat (alto sax).