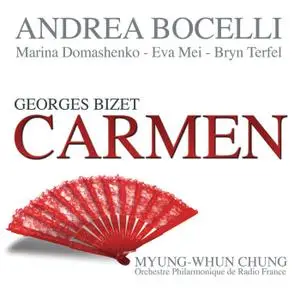 Andrea Bocelli, Myung-Whun Chung - Bizet: Carmen (2010)
WEB | FLAC (tracks) - 661 MB | 02:18:39
Genre: Classical | Label: Decca
What a pleasant surprise that this recording of Carmen, that, on the basis of its packaging looks like it was intended to be essentially a showcase for Andrea Bocelli, is an entirely respectable version of the opera. Much of the credit goes to Myung-Whun Chung, who leads Orchestra Philharmonique de Radio France in an exceptionally brisk account of the score, starting with a prelude that's bracingly impetuous, but he can be languidly flexible when the music calls for it. He uses a sort of hybrid version of the score, with some of the spoken dialogue and some of Guiraud's recitatives, and it works just fine.