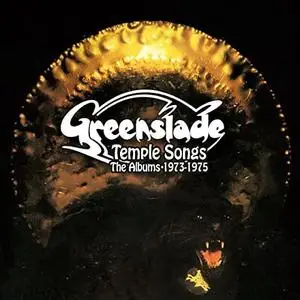 Greenslade - Temple Songs: The Albums 1973-1975 (2021)
FLAC tracks / MP3 320 kbps | 2:31:32 | 868 / 349 Mb
Genre: Progressive Rock, Symphonic Prog / Label: Esoteric Recordings
Aside from Roger Dean's iconic cover illustrations, Greenslade weren't like most prog brands of the 1970s. Keyboardist Dave Greenslade and bassist Tony Reeves formed the quartet in 1972 after leaving jazz-rock outfit Colosseum. Eschewing guitars, they hired Samurai's Dave Lawson as a second keyboardist, and former Manfred Mann drummer Andrew McCulloch (he also played on King Crimson's Lizard) . The band's approach utilized typical knotty, stop-and-start cadences, and key and tempo changes, but those are only a few elements in their complex soundscape. The rest of Greenslade's sound reflected a penchant for catchy melodies derived from pop, jazz, classical, and folk. Keyboardist Lawson spent years backing singers including Bing Crosby and Peggy Lee. Greenslade, Reeves, and McCulloch came up in the British blues and jump R&B bands of the early 1960s. The remastered albums in this box mark their four studio outings: 1973's Greenslade and Bedside Manners Are Extra, 1974's Spyglass Guest, and 1975's Time & Tide.