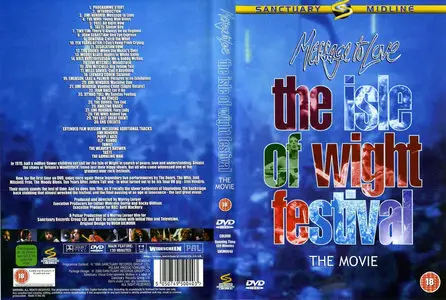 Message to Love - The Isle of Wight Festival 1970: The Movie (1997)
DVD9 | VIDEO_TS | PAL | 4:3 (720x576) VBR | AC3 2.0 @ 384 kbps | ~ 7.6 Gb | Scans included
Genre: Documentary, Rock, Folk | Label: Sanctuary | # SVEM0040 | Time: 02:00:11
For about a year after the Woodstock Music and Art Fair in 1969, it seemed as though everyone wanted to stage a rock festival. However, The Rolling Stones' disastrous Altamont free concert (documented in the film Gimme Shelter) forever tarnished the image of the rock festival in the U.S., while in Europe, the 1970 Isle of Wight Festival was fortunately less deadly than Altamont, but nearly as controversial. Staged by two men with greater ambitions than practical experience (not unlike Woodstock), the festival was held on a small island off the British coast, where some of the finest rock talent of the day – Jimi Hendrix, The Doors, The Who, Miles Davis, Joni Mitchell, Donovan, Jethro Tull, Joan Baez, Leonard Cohen, and Kris Kristofferson, among many others – were scheduled to play over the course of five days.