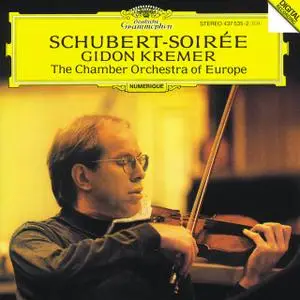 Gidon Kremer - Schubert Soirée (1993)
WEB | FLAC (tracks) - 301 MB | 01:00:58
Genre: Classical | Label: Deutsche Grammophon
The two sets of dances are charming products of Schubert's mid-teenage years and provide Gidon Kremer with much food for musical thought. Whereas a lesser artist might settle for charm and no more, Kremer locates those occasional corners where bodeful intimations lie dormant: witness the darkening cadences at the close of the Sixth German Dance or the third (D minor) Minuet's pensive outer sections. His solo playing has a fine-spun, slightly husky quality, spot-on the centre of the note and with constantly shifting nuances.