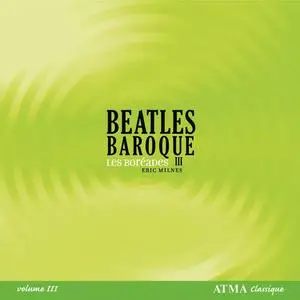 Les Boréades de Montréal, Eric Milnes - Beatles Baroque, Vol. 3 (2000)
WEB | FLAC (tracks) - 308 MB | 56:43
Genre: Classical | Label: ATMA Classique
One might be forgiven for thinking Beatles Baroque III by Les Boréades would actually sound Baroque, as it and two previous volumes are billed, but such is not the case. Even though this Canadian early music ensemble has impressive credentials, and plays the repertoire from Frescobaldi to C.P.E. Bach with aplomb, its performances on this disc are overwhelmingly modern in feeling and not too far removed from the actual music produced by the Beatles and George Martin in the 1960s.