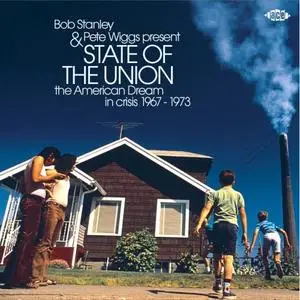 Bob Stanley and Pete Wiggs - State Of The Union (The American Dream In Crisis 1967 - 1973) (2018)
MP3 320 kbps | 1:18:57 | 190 Mb
Genre: Rock, Pop / Label: Ace Records
By 1968 there was a growing consensus that something had gone horribly wrong with the American dream. With urban riots, Vietnam, the assassinations of Martin Luther King and Bobby Kennedy, and ever-climbing divorce rates, the American way of life was under scrutiny from all sides. The nation's youth had loudly made their feelings clear, but now the older, pre-Beatles generations began to look at the country and wonder what the hell was happening. This album includes rare classics (the Beach Boys' '4th Of July'), lost masterpieces (Roy Orbison's seven-minute 'Southbound Jericho Parkway') and forgotten gems by some of the biggest names in the business (Elvis Presley's 'Clean Up Your Own Back Yard').