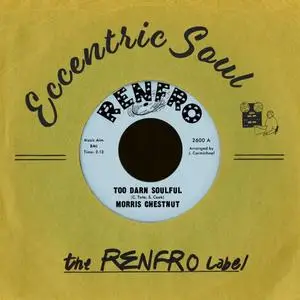 VA - Eccentric Soul: The Renfro Label (2020)
FLAC tracks | 01:33:12 | 430 Mb
Genre: Soul, R&B, Funk / Label: Numero Group
The only label financed from the proceeds of bagging groceries, Renfro Records operated at the fringe of the Los Angeles music business. "There was so much talent around in those days," founder Anthony Renfro said. "Everyone could sing and they were literally singing on the street corners. Twenty dollars for drink or weed would get them into a studio at the click of the fingers." Those clicks resulted in heavenly northern soul sides from Morris Chestnut, The Attractions, and Carl Henderson, alongside dreamy girl group pop from The Sequins, The Stunners, and Tender Loving Care. The label's ten-year run is captured in its near-entirety across three virtual "discs," sorted by tempo for talcum enthusiasts and steppers alike.