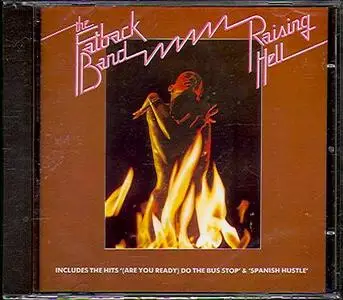 The Fatback Band - Raising Hell (1975) [1995, Remastered Reissue]
R&B, Soul/Funk, Disco | EAC Rip | FLAC, Tracks+CUE+LOG+Scans (JPEG) | 35:19 | 259,47 Mb
Label: Southbound Records (UK) | Cat.# CDSEWM 028 | Released: 1995-10-03 (1975)
Fatback's second album of 1975 is a serious improvement over Yum Yum: the arrangements are tighter, the hooks are stronger, and the grooves keep the listener riveted from start to finish. It downplays the live feel of previous albums like Keep on Steppin' in favor of a more carefully arranged feel that highlights the tasty keyboard and synthesizer work of Gerry Thomas. Raising Hell also produced two major hits for the group: "(Are You Ready) Do the Bus Stop" capitalizes on the dance craze of the title with a steady bass-driven groove that works in layers of keyboards, guitars, and horns to keep things interesting, and "Spanish Hustle" is a propulsive dance jam that alternates synthesizer flights of fancy with intense Latin percussion breaks guaranteed to make the listeners shake their hips.