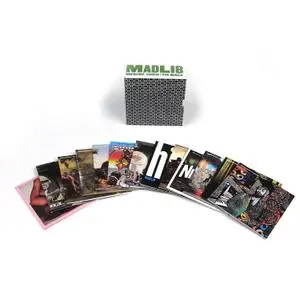 Madlib - Madlib Medicine Show: The Brick [13CD] (2016)
EAC Rip | FLAC (Tracks) +CUE, LOG | 5.6 GB | Scans
Genre: Hip-Hop, Jazz, Lo-Fi, Funk | Label: Madlib Invazion Records | Catalog Number: MMSBOX 101
At the beginning of 2010, Medicine Show No. 1: Before the Verdict kicked off what was planned to be a monthly 12-volume series from the underground hip-hop producer. Volumes were themed, with reggae, Brazilian pop, jazz, marijuana dispensaries, and rapper Guilty Simpson all figuring into the mix. With only a few delays, the series wrapped up in 2012, with a "secret" No. 13 also seeing release that same year. The Brick collects it all with simple shrink-wrap and no bonuses to speak of, and while the revered Madlib draws the kinds of fans who would have pre-booked every release ahead of time, latecomers get an easy pickup and instant karma overflow when it comes to coolness. Dive in or keep out, but if you like edgy, dense hip-hop productions that billow out of the speakers like the best Indo smoke you've ever exhaled, best to dive in.