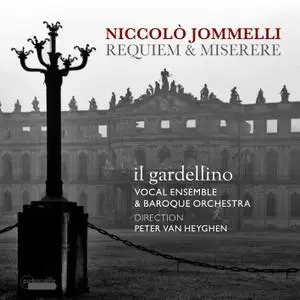 Il Gardellino & Peter van Heyghen - Jommelli: Missa pro Defunctis, Libera me & Miserere (2020)
WEB FLAC (tracks) - 298 Mb | MP3 CBR 320 kbps - 147 Mb | 01:04:03
Classical, Choral, Sacred | Label: Passacaille
Niccolò Jommelli was one of the most sought after composers of his time, but finally accepted to become musical director at the court of Stuttgart in 1753. Three years later he composed his Requiem to commemorates the recent death of the Duchess von Württemberg, mother of his patron, the Duke Carl Eugen.. Despite the fact that Jommelli owed his fame almost exclusively to his operas during his lifetime, the Requiem became his most famous work after his death; the almost one hundred handwritten and printed copies of the entire work or fragments of it that have survived in some seventy libraries throughout Europe, some also in the USA, bear witness to this. Whilst the score and parts of the first performance have been lost, we can still form a reasonably good idea of the original instrumentation thanks to a surviving list of payments made to the musicians. We know that there were eight singers (one female and seven male) in addition to Jommelli.