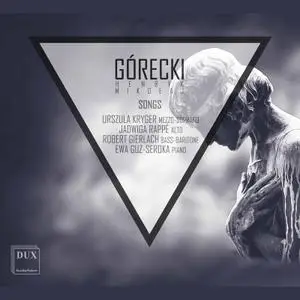 Ewa Guz-Seroka, Jadwiga Rappé, Robert Gierlach & Urszula Kryger - Górecki: Art Songs (2020)
WEB FLAC (tracks) - 296 Mb | MP3 CBR 320 kbps - 197 Mb | 01:24:15
Classical, Vocal | Label: DUX
Henryk Mikolaj Gorecki (1933-2010) thought two sentences in his search for the answer to the question what music is to be closest to capturing the root of the problem the words of Zbigniew Herbert: art is a transmission of important spiritual experiences and the thought of Pope John XXIII: it is a common thing, but the way is uncommon. The impact of both definitions on the composers oeuvre is particularly evident in the songs he had been writing since his first compositional attempts (falling in the mid-1950s) until 1996. Although Goreckis songs do not belong to the composers dominant expressive genres, he would return to them on a regular basis, considering them an important way of articulating the deepest, most personal, intimate experiences. This album, thanks to excellent soloists highly appreciated around the world, not only allows us to commune with the art of the outstanding Polish composer, but is also a great opportunity to hear the most representative Polish vocalists of several generations.