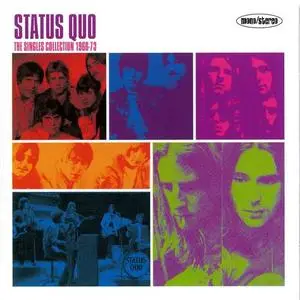 Status Quo - Singles Collection 66-73 (2013)
FLAC tracks | 2:31:10 | 809 Mb
Genre: Rock, Boogie, Hard Rock / Label: Castle Communications
Like the dog that titled Status Quo's fourth album, The Singles Collection 1966-1973 is very much a beast of two heads, the first (representing the band's output between 1966 and 1969) shifting its gaze between Kinks-ish beat and British psych and the second (wrapping up the band's releases and re-releases at the end of that span) sinking its teeth into the unapologetic boogie blues that have remained the band's stock in trade ever since. It's a misleading mélange, at least in terms of chronology. The Quo cut four albums for the Pye label, before departing in 1972 for Vertigo and fame – the last in that sequence, Dog of Two Heads, was released in December 1971. However, the moment "Paper Plane" gave the transplanted band a major hit in early 1973, Pye began digging into the vaults and the last six tracks on The Singles Collection represent the fruits of those labors. In terms of the band's own discography and development, they are meaningless. Nevertheless, the first complete roundup of all ten original Pye 45s (and B-sides) remains an essential compilation, both for Quo fans in general and for students of British psychedelia as it squirmed, post-1967, in search of new directions. The Quo eventually found theirs in the aforementioned boogie but, before that, the Bee Gees-esque ballad "Are You Growing Tired of My Life" and a rocking "Price of Love" both offered possible new avenues, and one cannot help but wonder where the band might have gone next, had "Down the Dustpipe" and "In My Chair" not struck gold during 1970-1971. While disc one is the A-Z of Quo's early work, disc two offers a more patchwork approach to the same period, first unearthing the four 45s the band cut under earlier identities the Spectres and Traffic Jam, then delving into 15 outtakes and alternate versions from across the board. Interestingly, the Bee Gees raise their head once again, via a Spectres-era cover of their own "Spicks and Specks," although previously unreleased renditions of other material is of little more than space-filling value. Nevertheless, The Singles Collection brings together a wealth of material that has long demanded such methodical treatment and, allied with the bonus track-stacked reissues of the four regular albums, rounds up Status Quo's Pye era output with becoming efficiency.